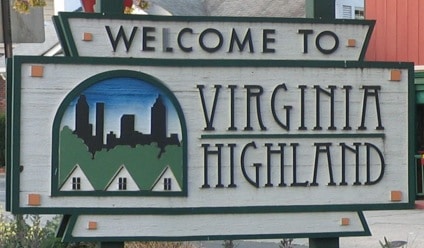 If you're looking for Atlanta homes that sit on vibrant centers of entertainment, dining and shopping, then Virginia Highland is eager to welcome you.
This eclectic neighborhood northeast of downtown Atlanta is located at walking distance to several commercial hubs. Expect the best dining experience that Atlanta has to offer across a wide variety of selections such as sidewalk cafes, bistros, restaurants, and cocktail bars. If it's your first time to drop by the neighborhood, be sure to check out Alon's Bakery, American Roadhouse, Blind Willie's, and the legendary Atkins Park Tavern. People who love shopping will be thrilled to know that Virginia Highland is home to many retail stores such as Threadz, Young Blood Gallery & Boutique, and Dakota J's. Practically everything that residents would need on a daily basis is accessible from Virginia Highland: fitness centers, places of worship, salon & spa, and more.
Travelling to and from Virginia Highland is made convenient through the MARTA public transportation, which can bring you practically anywhere in Atlanta. The neighborhood is also a few minutes drive to popular Atlanta destinations such as The Jimmy Carter Presidential Library & Museum, The Piedmont Park Conservancy, and Emory University. People who engage in active lifestyle would be glad to know that a PATH trail passes by the neighborhood, allowing them to do walking and biking around the city.
Over and above the convenience of getting to commercial and tourist destinations, living in Virginia Highland can give you the best possible residence in Atlanta. Virginia Highland was named as the Best Overall Neighborhood by Creative Loafing in 2011, and was also declared Best Walkable Neighborhood in 2012. Residential homes in the neighborhood range from bungalows and legendary architectural styles to more modern and contemporary homes.
Developments in and around the neighborhood are bringing Virginia Highland to a whole new living experience, with improvements like the Atlanta BeltLine Project and the Ponce City Market. There's no reason why you shouldn't consider Virginia Highland your next place of residence.
Homes For Sale in Virginia Highland