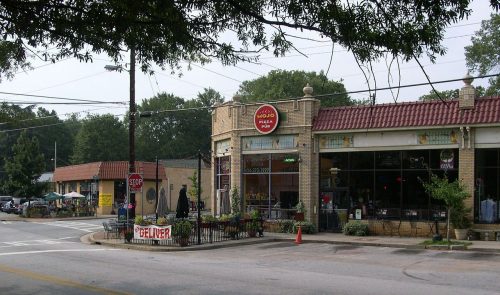 Its name evokes nature and history, but there's nothing tired and old about Oakhurst. This bustling neighborhood in Decatur boasts of a balanced mix of the natural environment, urban lifestyle, and comfortable community living.
Oakhurst is situated at Decatur's southwest end alongside Candler Drive and West College Avenue, and beside the neighborhoods of Kirkwood, Candler Park and East Lake. Its central business district is called Oakhurst Village, home to a wide array of entertainment and art centers, restaurants, retail stores, and historic sites. One of the most popular legendary sites in Oakhurst is the structure of the Old Scottish Rite Hospital, which has been turned into an eclectic center that houses a wine bar, art gallery, and a community center called Solarium. Other noteworthy restaurants include Mezcalitos Cantina, Mojo Pizza 'n Pub, Saba, and Steinbecks. Meanwhile, other tourist attractions in and around Oakhurst include Harmony Park, Oakhurst Park, and McCoy Park and Pool.
Oakhurst is at walking distances to educational institutions such as Oakhurst Elementary, Renfroe Middle School, and Fifth Avenue School. Places of worship are also accessible from Oakhurst.
The neighborhood has earned a reputation of fun and frolic over the years, mainly because of its various festivals. If it's your first time to visit Oakhurst, make sure to check out the BBQ, Blues & Bluegrass Festival in Harmony Park, Jazz Nights at Scottish Rite, or the annual Oakhurst Arts & Music Festival. Its residents are also fond of hosting block parties around the area, and even the Oakhurst Neighborhood Association supports this kind of event.
But more than having a vibrant lifestyle and entertainment centers, Oakhurst is primarily a residential area. Be amazed by stylish craftsman bungalows, all-brick homes with porches, and quaint residential structures of the past. Oakhurst is also in a season of real estate development, with several modern-style homes and residential buildings being built over the years.
Traveling from Oakhurst to nearby Atlanta destinations is made easy through the nearby East Lake MARTA station, as well as access to downtown-connected roads like the DeKalb Avenue/East College Avenue, Ponce de Leon Avenue, and Memorial Drive. From the neighborhood, you can easily reach famous Atlanta tourist spots such as the Chamber of Horrors Atlanta Haunted House and the Martin Luther King Jr. National Historic Site. In short, living in Oakhurst allows you easy access to business and commercial hubs in the state, most especially downtown Atlanta.
Homes For Sale in Oakhurst