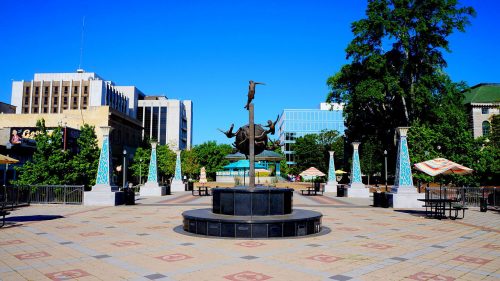 Take a glimpse of Atlanta's best features by visiting Decatur. This city strikes a perfect blend of urban metropolitan atmosphere with laid-back small-town style of living.
The city of Decatur is home to residential perks and necessities to make your Atlanta living a relaxing experience. Staying in Decatur puts you at walking distances from schools like Agnes Scott College, parks and playgrounds, places of worship, restaurants and retail stores. All of these destinations are within convenient distances from residential areas in the city, amidst tree-lined streets and friendly neighbors.
People engaged in an active lifestyle will be happy to stay in Decatur, as it offers a lot of amenities such as swimming facilities, fitness centers, and tennis courts. Decatur active living is also evident in the city's programs like summer camps, senior activities, and the Li'l Kickers Soccer for children. The Decatur Rec Center hosts most of the services and activities for active living, including a comprehensive Aquatics Program. The city is also part of the PATH multi-use trails, which are great for walking or biking.
Amidst the exciting urban atmosphere that the city has to offer, Decatur continues to hold on to its historical roots. Find yourself immersed in the city's rich history through various destinations such as the M.A.K. Local Historic District, Historic House Complex, Historic Oakhurst, and the Old Courthouse On The Square. If you appreciate classic architecture, head on to South Candler Street for a glimpse of ell-preserved Victorian homes. Many of the structures and locations in Decatur have been recorded in the National Register of Historic Places.
Decatur is conveniently located minutes away from the eastern section of Atlanta, and is very near Clairemont, Ponce de Leon, and College Avenue. The city's strategic location on the map lends itself to easy access to several Atlanta destinations, most notably using any of the three Metropolitan Atlanta Rapid Transit Authority (MARTA) stations or the Clifton Corridor Shuttle. Meanwhile, travelling within the city may be done through taxicabs, shuttle bus services, or even walking. In fact, residents and tourists alike have come to love the city's Audio Walking Tour, which starts at the Decatur City Hall.
Decatur's continued growth promises the rise of more residential options, commercial hubs, and office districts. Its development programs include improvements in city navigation and bicycle access, strengthening of community groups, and a goal of sustainability for the environment and the city's residents.
With several points of interest, a relaxing residential atmosphere, proximity to essential establishments and an exciting development program, the city of Decatur is definitely your best bet to experiencing Atlanta living at its finest.
Homes For Sale in Decatur